© University of Liverpool 2019


Planning for working in quarries
When visiting working quarries it is a legal requirement that you comply with their safety
regulations with respect to head gear, eye protection, footwear and high visibility clothing.
This video, featuring some of the activities that take place in a working quarry, demonstrates
why you need the following equipment:
•
safety helmet
•
ear defenders
•
high visibility clothing
•
quality walking boots
Safety boots with metal toe protection are mandatory in some quarries. Check the regulations
with the quarry or site manager and ask if specialist footwear will be provided.
In many quarries you are expected to carry gloves with you in case you need to lift anything. In
wet clay and sand pits safety wellingtons with metal toe protection are advisable.
It is a risk to use inappropriate or inadequate equipment. Their use may lead to personal injury or
injury to others.
I
dentify the following signs:
•
safety helmets must be worn
•
high visibility vests must be worn
•
safety boots must be worn
•
ear defenders must be worn
Click on each sign to find out more about the
equipment you need for a visit to a working quarry.
Remember:
When you are visiting a working quarry it is a
legal requirement that you comply with the
safety regulations for that quarry.
Check with the site manager if specialist footwear
will be provided.


Equipment for quarries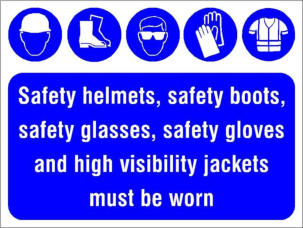 Warning signs
In some working quarries and
pits you will see signs that
indicate the range of protective
clothing or equipment you are
required to wear by law. This sign
includes symbols for mandatory
safety glasses (to reduce risk of
harm caused by chemical splash,
dust and projectiles) and safety
gloves (to protect hands from
chemicals and reduce risk of
abrasion or cuts).
Working quarries and pits - hazards
Always obtain prior permission for entry to a working quarry or pit. Unauthorised entry is not only
illegal, but you may also place yourself in danger. On arrival you must contact the site manager (or
his deputy). On supervised visits this is usually done by your tutor.
You must:
•
obey any special instructions given by the site manager and/or your tutor
•
stay with all members of the party
•
ask the site manager for permission to collect samples
•
keep away from quarry equipment or controls
•
behave responsibly at all times.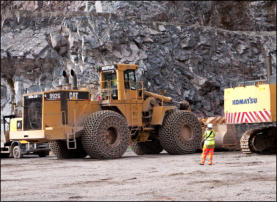 Moving plant
Quarry vehicles loaded with material
often move fast and are a hazard.
Serious injury (fractured limbs, crushing,
death) could result from impact with
quarry vehicles. To avoid injury you must
remain alert and ensure that drivers and
plant operators are aware of your
presence at all times.
Remember:
When you are crossing
quarry roads, quarry vehicles have
priority.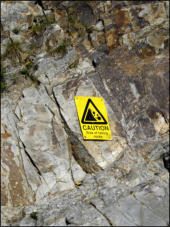 Unstable quarry faces
Unstable quarry faces present a hazard because
there is risk of rock faces collapsing or rock falling
from the quarry face. Think about possible
consequences if these events happened and do
remember that unstable faces may not be clearly
marked as a hazard. Assess the stability of the face
yourself and do not go near the face if it appears to
be unstable
.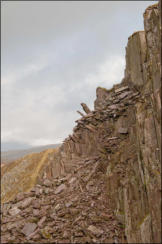 Piles of rock & quarry waste tips
Rock piles may provide rock samples that are otherwise
inaccessible, but such piles may be unstable. There is risk
of piles collapsing and chances of you sustaining sprain
and/or crush injuries and possibly resulting in injury to
others. Assess the stability of rock piles. Keep away if they
are unstable.
Remember:
In quarry waste tips there is also risk of
contact with hazardous materials which may cause burns
or illness.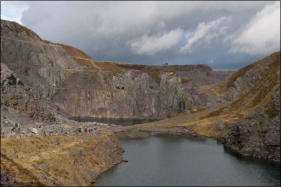 Settling ponds and mud lagoons
Working (and disused) quarries may
have settling ponds or sludge
lagoons. These may appear as
pools, but more often they are
muddy ponds partly obscured by a
crusty skin (or vegetation in a
disused quarry). Always go round
these areas. There is risk of sinking
in such ponds, resulting in
entrapment, exposure, suffocation
or drowning.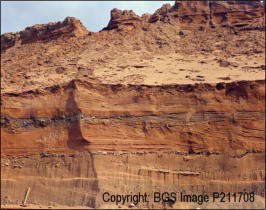 Slopes & faces in pits
Slopes and faces in sand, gravel or
soft sediment pits are potential
hazards. Steep slopes may be
unstable, particularly in wet
conditions. There is risk of slumping
or collapse of faces. These may
result in burial, entrapment,
suffocation or death. Avoid climbing
such slopes and faces to reduce the
risk of avalanching material onto
others working below you in the pit.
Blasting
Blasting occurs in most hard rock quarries. On arrival at
the quarry you will normally be told about timings of
blasting, warning signals, safety procedures and the
location of safe refuges.
There is risk of injuries from shock waves, noise and
flying rock fragments. Think about the possible
consequences of these injuries.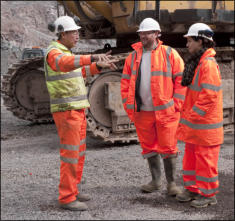 Confrontation in quarries and pits
You are likely to find yourself in a
confrontational situation in a working quarry
if you haven't obtained permission to enter
or have placed yourself in danger by ignoring
safety instructions. You will be excluded from
the site. To avoid further embarassment you
must respond calmly and leave the site
immediately if requested to do so by
someone in authority.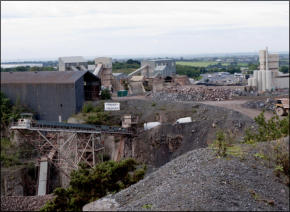 Conveyors and crushers
Entrapment and high noise levels
are risks associated with conveyors
and crushers. These pieces of
equipment are noisy and you may
find it difficult to hear safety
instructions or end up with
temporary loss of hearing.
Fractured limbs, crushing and
death can occur as a result of limbs
and clothing becoming trapped in
the moving parts of conveyors and
crushers. Stay clear of moving
equipment. Never touch controls
and do not attempt to pick samples
from a moving conveyor.
This is a view of a disused slate quarry in Snowdonia.
Many of the hazards associated with working quarries may be seen here.
You must ensure that you wear a safety helmet in abandoned quarries and good quality
boots with firm ankle support and good toe protection.
Click on each hotspot to remind yourself about these hazards and to find out about additional
hazards in abandoned quarries.
Disused quarries - hazards

Disused quarries - additional hazards
These images highlight some of the additional hazards presented by disused quarries.
When you are working in disused quarries you must always:
•
wear a safety helmet
•
wear good quality walking boots with good ankle support
•
assess the stability of the quarry face
•
beware of animals and nesting birds on the quarry ledges.
Quarry used as a landfill site
This is a quarry in Storeton, Wirral. Sandstone was
quarried at this site, but after the quarry was
closed it was used as a landfill site.
Some of the materials dumped in old quarries may
be hazardous and you should avoid contact with
rusty metal or leaking containers to avoid risk of
flesh wounds, burns and skin or eye irritation.
Note the additional hazards in this quarry where
there are overgrown areas and steep rock faces.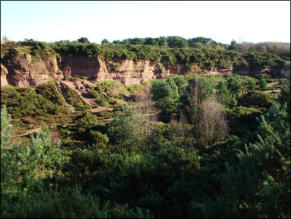 Unstable quarry faces
This shows Park Hall Quarry in
Staffordshire. Originally the
quarry was mainly worked for
the pebble beds which were used
as aggregate. Park Hall is a SSSI
(Site of Special Scientific Interest)
and National Nature Reserve
(NNR) for its geology.
Two of the hazards that are
shown in this image are:
•
steep unstable quarry faces
•
overgrown faces.
R
ock falls
This is a disused limestone quarry in
North Wales.
The main hazard here is rock falling from
the steep rock faces forming unstable
piles of angular limestone fragments at
the base ot the rock faces
.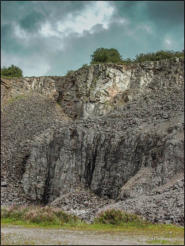 Steep rock faces
This is one of the Ercall quarries in Shropshire. The
quarry was worked for aggregates until 1986.
The steep rock faces left after quarrying ceased are a
hazard. An additional hazard is that the steep rock faces
are now partially overgrown and these areas may shelter
snakes and insects.